Summary
Polyus is Russia's largest gold producer with a vast reserve base and ambitious growth plans.
The company has the highest dividend yield among global gold companies.
Though I think Polyus is a good investment opportunity, be aware of geopolitical and company-related risks.
I think that Polyus (OTCPK:OPYGY) is an extremely undervalued company with strong operational performance. Despite the highest FCF margin, highest dividend, yield, and highest growth, Polyus is traded with a significant discount to peers on most valuation metrics. That said, I view Polyus as a good investment opportunity.
Company Overview
Polyus Gold is Russia's largest Russian gold producer and 10th-largest globally. It is also among the top 5 international gold companies by reserves. It has four operating mines in Siberia and the Far East of Russia and a number of greenfield projects at different stages of development. Polyus was founded in March 2006 as a result of a spin-off from the gold assets of Norilsk Nickel.
The company performed very well in 2017. Gold sales increased by 13% year-on-year to 2,158 thousand ounces reflecting higher gold production. Revenue totalled $2,721 million compared to $2,458 million in 2016, driven by increased sales volumes. Net profit for 2017 amounted to $1,015 million, a 7% increase from the prior year. Capex was $804 million, primarily due to the ramp-up of construction activity at Natalka mine.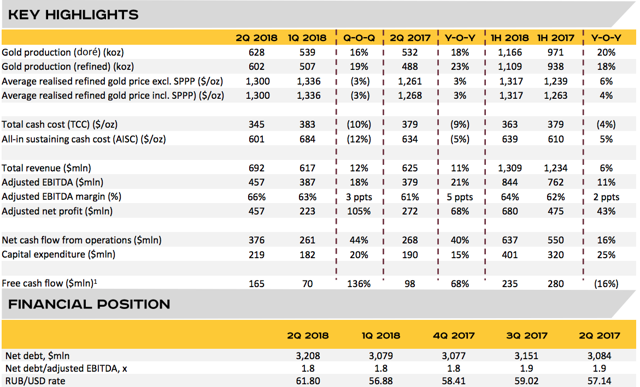 Source: Polyus
Polyus' results for 1Q-18 and 2Q-18 are also reasonable. The company sold a total of 531 koz of gold in 2Q 2018, up 16% compared to 1Q 2018 and up 7% compared to the prior-year period. Revenue totaled $692 mln, up 12% q-o-q, driven by higher sales volumes. Year on year, revenue rose by 11%. The company kept its 2018 gold production guidance unchanged at 2.375-2.425 million troy ounces, adding that the ramp-up of production at its major Natalka gold deposit in Russia's far east is in its final stage. Natalka, currently operating at above 90 percent of its design capacity, produced 39,800 ounces of refined gold for the period.